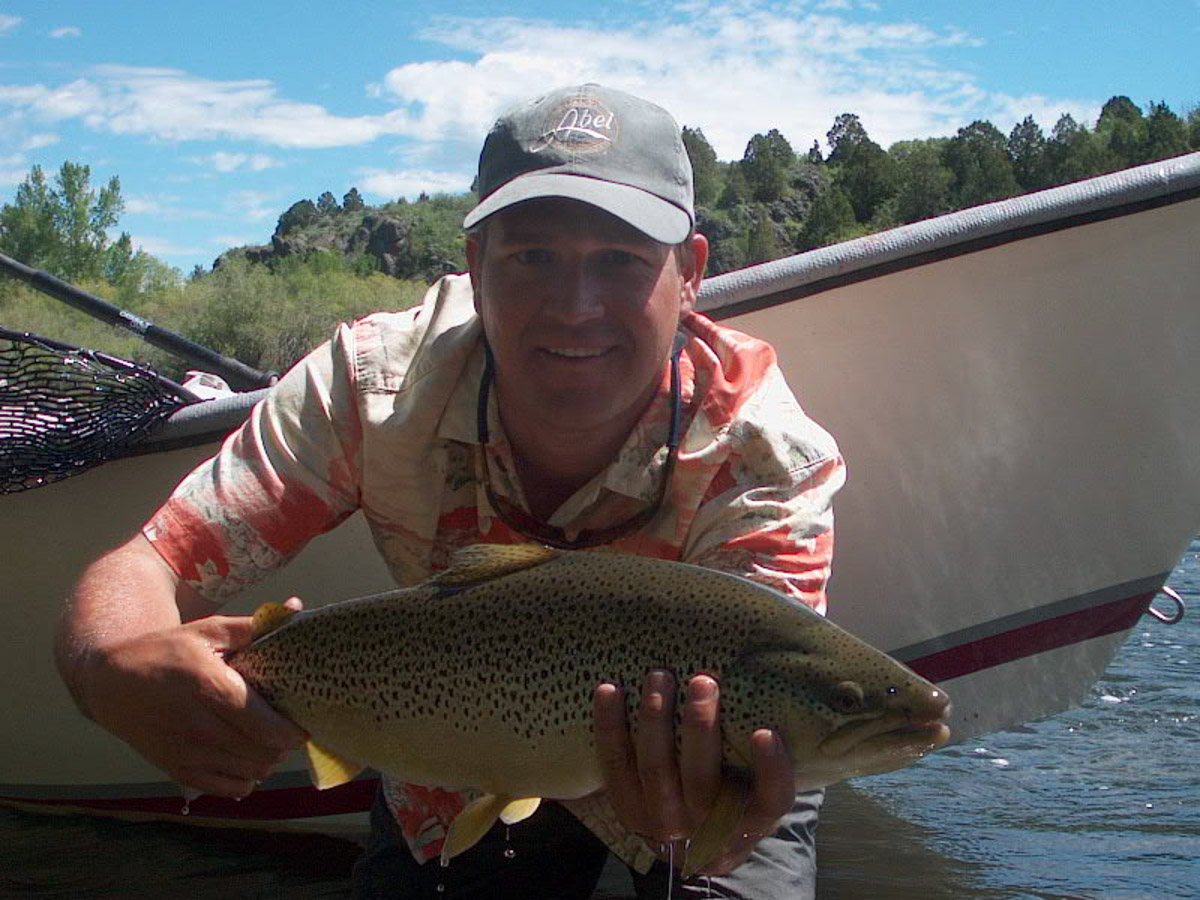 How It Works
Once you call us the process is actually quite simple. We will talk to you on the phone and answer any questions that you may have. Then you will pick your dates and make your reservation.
On the day of your trip we will pick you up at your hotel. If you need a fishing license or any flies or lures we will go by a shop to pick up what you need. Then it's off to the river.
"I had a great day because of your patience, experience, expertise, and friendliness." -Tyler, Virginia
After rigging up the rods and the boat we will hit the water. If you are new to fishing, our expert (and very patient) guides will give you all of the instruction you need. Then it's on to Catching Fish!!!
Our day is spent floating down the river, fishing from the boat as well as stopping on shore to work to good holes. We have snacks and drinks on the boat, and on full day trips we stop for a delicious shore lunch.
At the end of the day we will load up the truck and drive you back to your hotel, where you can rest up for the next day's adventure.
Our company is small and therefore very flexible and more than happy to customize your trip to fit your needs.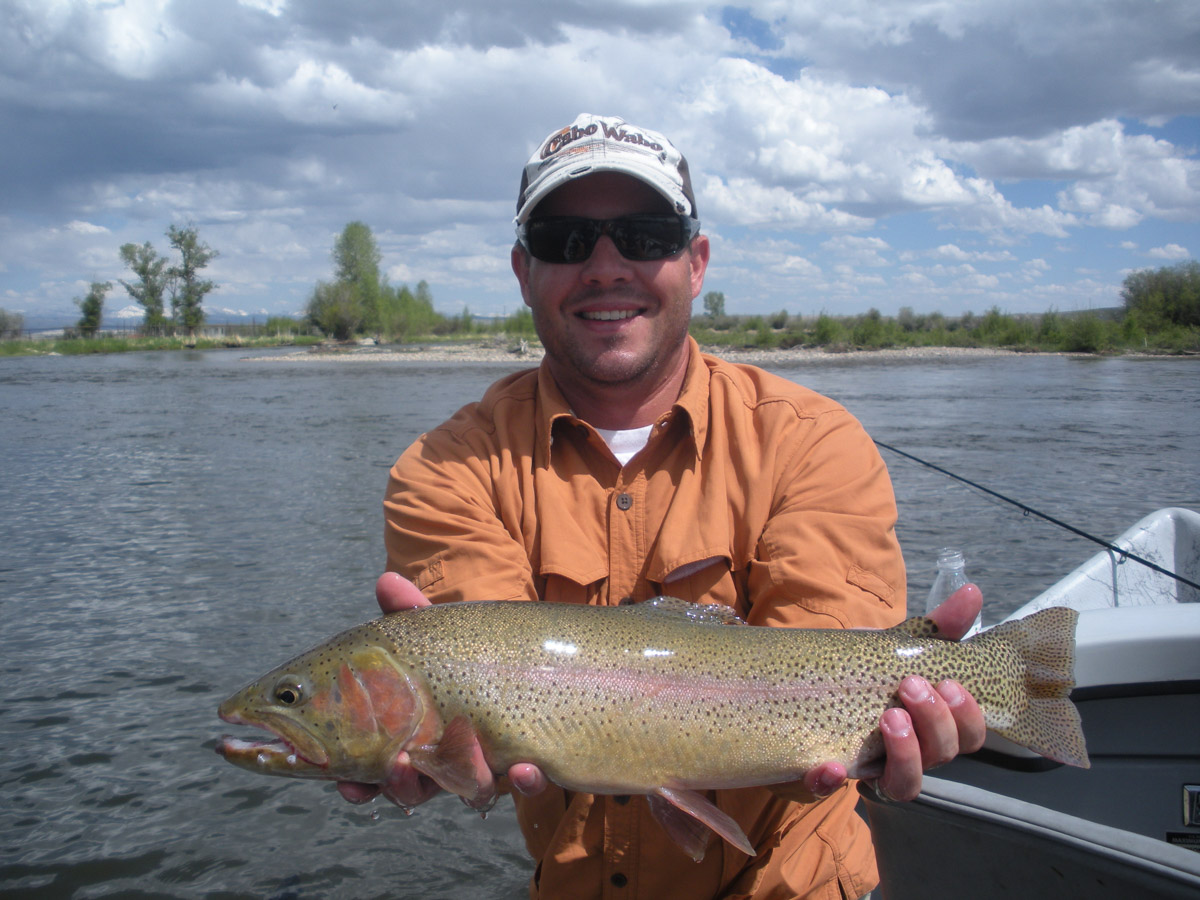 What You Need
Jackson Hole Anglers will supply just about everything you will need for a great day on the river. If you would like to use your own gear you can certainly supplement yours for ours
We Supply:
Fly Rods and Reels
Spinning Rods and Reels
Boats and Lifejacksts
Professional Guide
Snacks and Beverages
Lunch (Full day Trips Only)
Transportation to River
"Thanks for a great Snake River experience, It was the highlight of our family vacation..." -Wayne, Wyoming
What you should bring:
A Jacket in case of foul weather
Shoes that can get wet
Any medications you need (insuline, epinephrine, etc.)
Any additional snacks or beverages you desire
Flies and Lures (We can get these at shop in am)
Fishing License (We can get these at shop in am)
If you have any questions or concerns about what to bring or what is supplied please give us a call and we will be happy to talk about your needs or concerns.

Fishing Report
June 21, 2017
.
Lewis Lake
Lewis Lake has been the real gem of the fishing in our area. We are catching good numbers of both Brown Trout and Lake Trout here every day. We are having success with dries, nymphs, and streamers. This lake is best fished by boat, so give us a call and we'll get you out on this water that is currently in its prime!.
Firehole River
The Firehole River is open and fishing quite well. There are huge caddis hatches and intermittent mayfly hatches as well. Given the high water, we have done pretty well catching trout on nymphs such as pheasant tails and princes. This is the very best time of year to fish the Firehole so get out and enjoy.
Lakes and Still Waters
This is the best time of year to be out fishing our area Lakes and Reservoirs. The trout tend to be in the shallows at this time of year making them easier to target with a fly rod. Depending on the water you are on, you can typically use dries, nymphs, and streamers. Try nymphing with a Pheasant Tail or stripping a small Wooly Bugger and hold on. Fish in lakes tend to grow larger than in rivers, so this is a great time of year to go after a trophy!
Snake River
The Snake River is now in it's full spring run-off mode. The river is extremely high and muddy. For now it's better to focus your efforts elsewhere.
Green River
The Green River is currently in full spring run-off mode and is basically unfishable. We hope it returns to a fishable level by late June or Early July.
Spring Creeks
The Private Spring Creeks that we have access to can fish well through the spring due to water temps that are consitently in the mid-50's and the beautiful clarity of the water.
Snake River Tributaries
Most of the tribs are high and muddy with the snow melt. Most will be in this mode until Late June or July.